Jack B. Quick:
'Wild Child'
"To the top pasture, Mom! I've spotted a loophole in Einstein's theory of relativity that might save Bessie!"- Jack B. Quick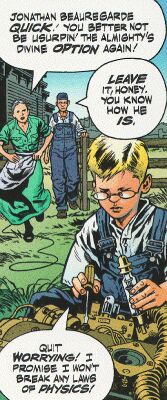 One of the newest contenders in the arena, young Jack B. Quick is a farm boy from the improbably named town of Queerwater Creek in the American mid-west.

While most of his fellow townsfolk are stock rustic characters, Jack is a super-genius; capable of feats of mad science truly incredible for one so young. In his few published adventures in Alan Moore's Tomorrow Stories, Jack has abducted aliens, created a miniature sun, become lost in time and space and prosecuted photons for speeding.

One can only imagine the things the little scamp will get up to by the time he's old enough to start thinking about global domination. His combined grain silo/nuclear silo was certainly a good start.
Back to Mad Scientists Page
Back to Main Page